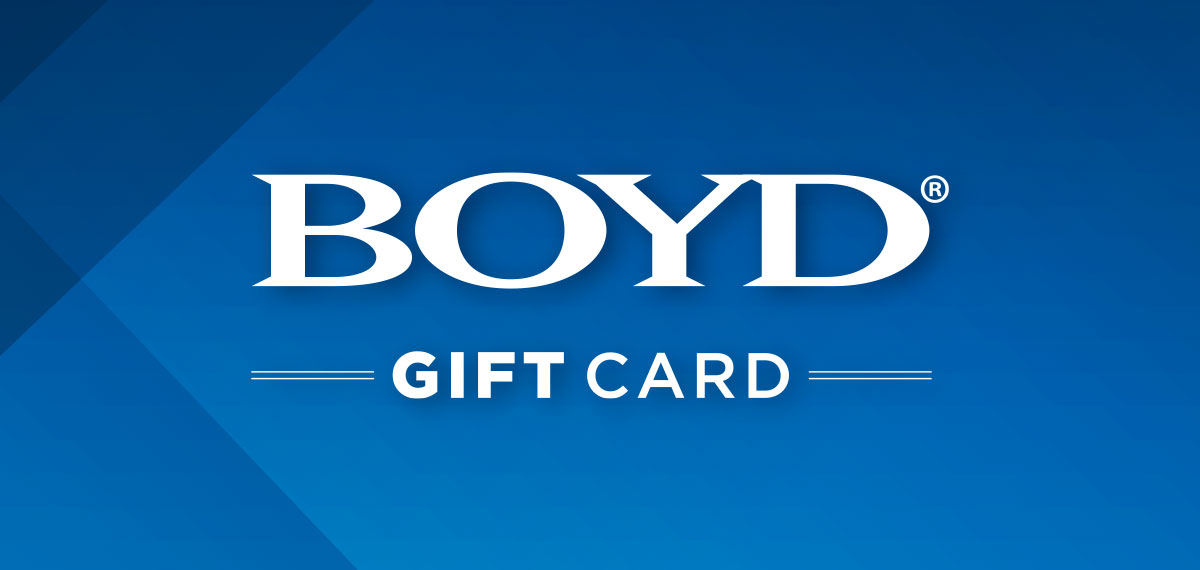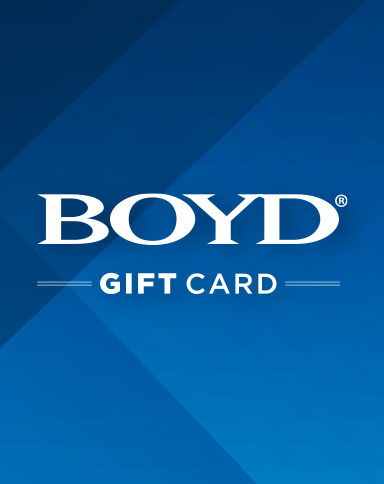 Boyd Gift Cards
Give your family and friends the gift of fun!
The Boyd Gift Card can be used at 27 Boyd destinations across the United States. Gift Cards can be used at the food and beverage outlets, the retail gift and liquor shops, bowling (where available), the spa (where available), and at the front desk to pay for your stay. Go on a Las Vegas shopping spree, pamper yourself with a St. Charles spa weekend, enjoy all Biloxi has to offer, or experience Southern hospitality in Tunica.
How to Purchase
Gift Cards can be purchased online by clicking "Purchase a Gift Card" below or at participating retail locations at Boyd destinations.
Boyd gift cards cannot be used for any kind of gaming activities, redeemed for cash, movie theater, showroom/arena shows, nor can they be used to make reservations or advance purchases such as show tickets.
Important information
Gift Card cannot be exchanged for cash, gaming tokens, or chips and cannot be replaced if lost, stolen or damaged. At and after the time of a purchase, no change can be given for a remaining balance on Card. Gift Card must be presented for redemption and is not valid for advance deposits or online purchases. Use for gratuity may be restricted by outlet. Gift Cards are not eligible to be utilized towards Boyd Pay accounts.
FAQ
1. Where can I purchase Aliante Casino + Hotel + Spa gift cards?
You can purchase gift cards at the Gift Shop.
2. Can gift cards be purchased in any denomination?
The minimum for a gift card purchase is $10.00 with a maximum of $500.
3. Where can I use my Boyd gift card?
You can redeem at any Aliante Casino + Hotel + Spa restaurant or bar, the spa, gift shop, Access Showroom, Starbucks and Aliante Hotel. Please look for the signs posted at those outlets.
4. Can gift cards be reloaded?
Our gift cards cannot be reloaded.
5. How can I check the balance remaining on my gift card?
For card balance and inquiries, please visit the Check Balance page.
6. What happens if I lose my gift card?
Aliante Casino + Hotel + Spa will not be responsible for lost, stolen, or damaged cards, or any unauthorized card use.
7. Will TGI Fridays, Capriottis, Panda Express, Johnny Rockets, Rubios, Dairy Queen, or Regal Cinemas accept Aliante gift cards?
Our gift cards cannot be purchased or redeemed at these outlets.
8. Are gift cards redeemable for cash?
No. Our gift cards are non-refundable and the unused value cannot be redeemed for cash or player club points.
9. Will gift cards expire?
Our gift cards will not expire. However, after twelve (12) months and continuing monthly thereafter (until the remaining balance on the card reaches zero), there will be an account maintenance fee of ten dollars ($10.00) per month.
10. For questions concerning gift cards contact customer support at giftcards@boydgaming.com