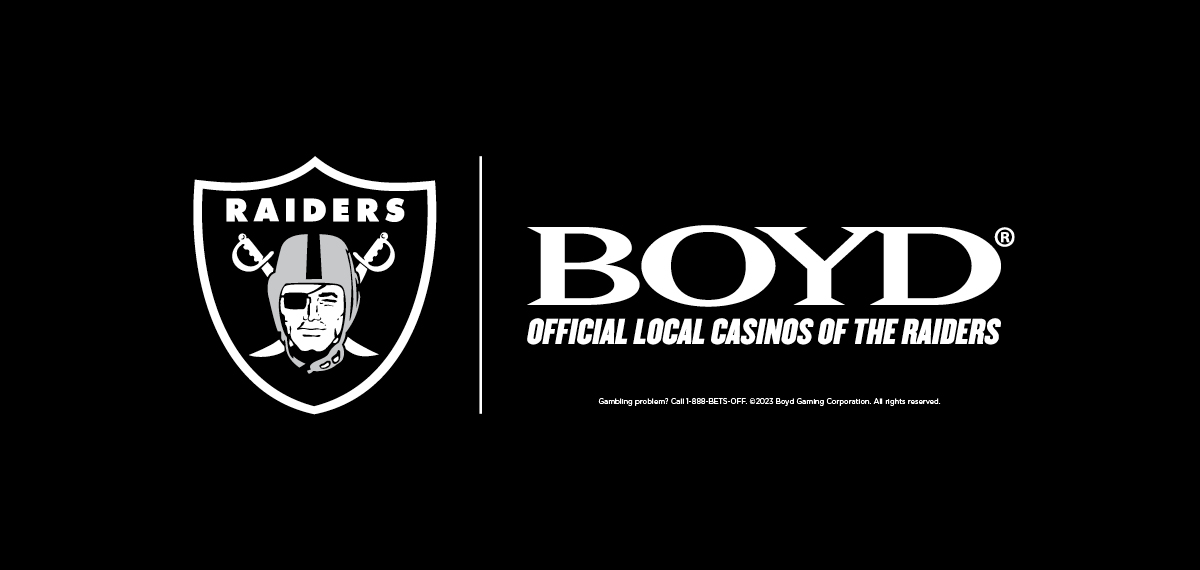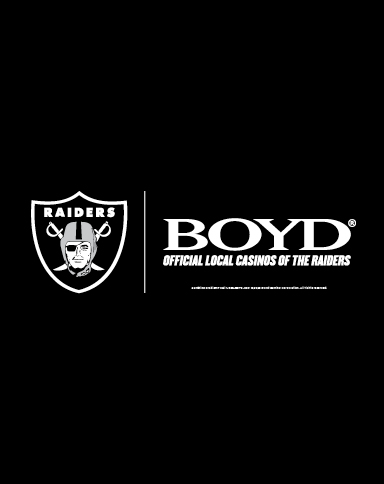 Boyd Gaming Named Official Local Casinos of the Las Vegas Raiders and Allegiant Stadium
EXCITING ANNOUNCEMENT
Boyd Gaming Named Official and Exclusive Local Casinos of the Las Vegas Raiders and Allegiant Stadium
LAS VEGAS—Boyd Gaming and Las Vegas Raiders today announced a groundbreaking partnership, designating Boyd's 10 Las Vegas Valley casinos as the Official and Exclusive Local Casinos of the Raiders and Allegiant Stadium.
As a Founding Partner of Allegiant Stadium, Boyd Gaming will receive prominent signage and brand placement at the Stadium, including rebranding the west side of the stadium's upper deck with brands of Boyd and its southern Nevada casinos.
Additionally, Boyd will be a presenting partner of one Raiders home game each year, and the Raiders' weekly in-season radio show will be "Presented by Boyd." Boyd and the Raiders will also partner in regular customer promotions, communications and advertisements.
Keith Smith, President and Chief Executive Officer of Boyd Gaming, said: "Since arriving in Las Vegas, the Raiders have greatly enhanced and strengthened our city's reputation as the Entertainment and Sports Capital of the World, giving fans across the country another reason to visit southern Nevada. The Raiders have been equally committed to our community off the field, giving back generously to nonprofit organizations and charitable causes across the Las Vegas Valley. Boyd is proud to partner with an organization and team that share our long-standing commitment to the well-being of the southern Nevada community."
"We are proud to partner with Boyd Gaming, who share our values of integrity and commitment to community," said Las Vegas Raiders President Sandra Douglass Morgan. "We know that with this respected partner, we will be able to provide Raider Nation with even more exciting activations and experiences."
Boyd Gaming and the Las Vegas Raiders share a commitment to promoting responsible gaming and encourage casino and sports-betting customers to always bet responsibly. If you or someone you know has a gambling problem, help is available by calling 1-800-GAMBLER, or visiting www.whenthefunstops.org.
About Boyd Gaming
Founded in 1975, Boyd Gaming Corporation (NYSE: BYD) is a leading geographically diversified operator of 28 gaming entertainment properties in 10 states, and manager of a tribal casino in northern California. The Company is also a strategic partner and 5% equity owner of FanDuel Group, the nation's leading sports-betting and iGaming operator. With one of the most experienced leadership teams in the casino industry, Boyd Gaming prides itself on offering its guests an outstanding entertainment experience, delivered with unwavering attention to customer service. Through a long-standing company philosophy called Caring the Boyd Way, Boyd Gaming is committed to advancing Environmental, Social and Corporate Governance (ESG) initiatives that positively impact the Company's stakeholders and communities. Our commitment to being an employer of choice has been recognized by Forbes magazine, which named Boyd Gaming one of Nevada's Best Employers in 2020, 2021 and 2022. For additional Company information and press releases, visit https://investors.boydgaming.com.
About Allegiant Stadium
Located adjacent to the world-famous Las Vegas Strip, Allegiant Stadium is an award-winning global events destination that serves as home field for the Las Vegas Raiders and UNLV Football. The technologically advanced Allegiant Stadium also hosts host world-class entertainment including world-class music artists such as Garth Brooks, The Rolling Stones, Guns N' Roses, Illenium and BTS and special events such as the CONCACAF Gold Cup Final, Pac-12 Championship Game, Las Vegas Bowl, and WWE SummerSlam. The state-of-the-art, multipurpose venue also hosted the NFL Pro Bowl in 2022 and again in 2023 and will serve as the site of Super Bowl LVIII in 2024. Allegiant Stadium is committed to giving back to the community though numerous diversity, inclusion, and community outreach initiatives. For more information on Allegiant Stadium, visit www.allegiantstadium.com or follow us at @allegiantstadm on Twitter and @allegiantstadium on Instagram.